Unique experience of our highly qualified specialists gives a possibility to extend the range of products to comply with our users' demands by its attribute and technical characteristics.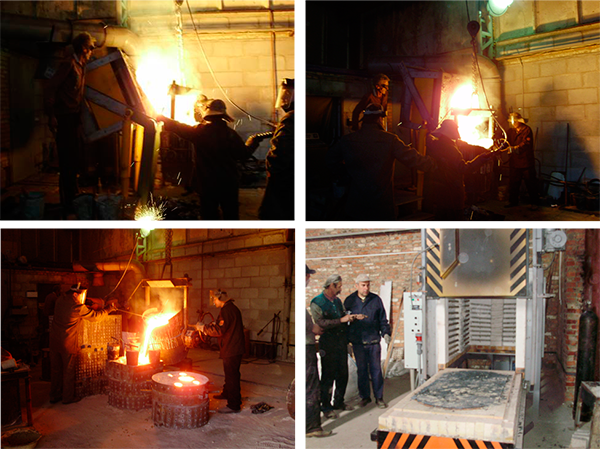 Using its own facilities,PEMC "Terra" can make castings from cast iron, carbon high alloy steels, addition alloys, lost-wax casting with possibility of further machining.
castings of various complex configurations with minimal machining allowance (or without treatment of low-duty surfaces) are manufactured with full or partial preparation of structural holes;
minimum wall thickness of casting – 2 mm;
dimensional accuracy of casting is provided as per LT3-LT4 OST 1.41154-86 and accuracy class 5 as per GOST 26645-85;
castings gating system is designed in such a way that casting defects are almost eliminated;
all kinds of heat treatment are used for steel depending on the properties specified by customer: high-temperature annealing, quenching, normalization;
castings are tested to obtain chemical composition, depth of decarburized layer, mechanical properties, impacts strength, metallographic test by structure;
castings are 100% visually inspected; depending on requirements to castings, they may be subjected to radiographic and magnetic particle inspection;
on customer request, certificates of all kinds of castings laboratory tests are attached to castings set;
castings are fettled, ground and cleaned in sandblasting chambers and shot blasting machines;
castings examples: pumps casing parts, impellers, cylindrical shape castings, spherical shape castings, brackets castings, beam shape castings etc.
maximum weight of gray iron castings – up to 500 kg;
steel and alloys castings – up to 400 kg;
castings of investment patterns – up to 30 kg;
materials: gray iron СЧ15-СЧ30, steel 25Л, 20Х13, 12Х18Н10Т
on customer request, company can perform rough and final processing of castings, аs well as perform hydrotesting.
We provide machining services according to technological processes, in compliance with technical requirements, drawings and technical documentation as per GOSTs, OSTs.
Namely:
turning group of machines enables to process shafts with the length up to 3m (model 1М63);
large machine parts ᴓ600 mm are processed by means of turning machine mod. 2А601;
as well as by machine mod. РТ-686 with revolving table ᴓ1000 mm by max diameter of work piece in overlying position to the bed – 1400 mm,
by max diameter of work piece above carriage – 1000 mm,
max length of work piece – 2 500 mm;
turning-and-boring machine of model 1516Ф1 with revolving table ᴓ1400 mm ( with possibility of processing up to ᴓ1600 mm);
milling processing at machines mod.6М82Г, СФ40, 6М13П:
drilling works at radial drilling machines mod.2А554, 2К521:
chop of large machine parts ᴓ500 mm at machine mod.7Д-450
with stroke of chop 120-50 mm, maximum movement
of table – 600 mm, maximum size of lathe knife 40×25 mm;
boring works at machines mod.2А614, 2А601;
we provide metal fabrication services ( all necessary welding equipment is available, including argon and carbon dioxide welding);
we perform sand-blasting works.